Happy 2nd Birthday Tyler
Tyler celebrated his 2nd birthday party on Aug 11, 2001.
However, He was offically 2 on Aug 4th. Can you guess
what the party theme was? HINT: Look At The cake!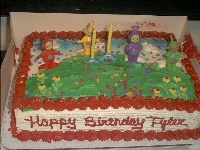 Answer: If you guessed Teletubbies, you are right;)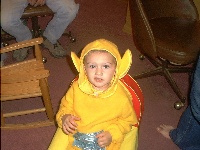 Mom Loves to enbarass me!! Future yearbook picture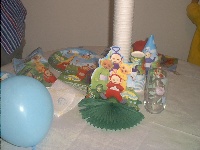 My Table Setting.. Teletubbies, Teletubbies!!!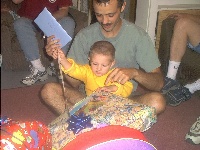 Dad, helping me open my presents. Actually he opened all of them.
The whole time I fussed and screamed and had no interest what so ever
with them. Arhg, maybe next year mom and dad;)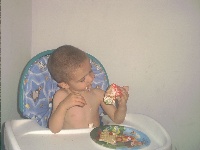 Gee. I wish I could eat this stuff more them once a year!

I had a fun time, althought after the cake I was very tired
and messy so I took a bath and fell right asleep in my bed.
I had no time to play with my new toys;(. However in the
morning when I woke up, ALL my new toys were in my room.
I let mommy and daddy sleep in while I played and played!
UPDATE: Im bored of my new toys;( When is Christmas?